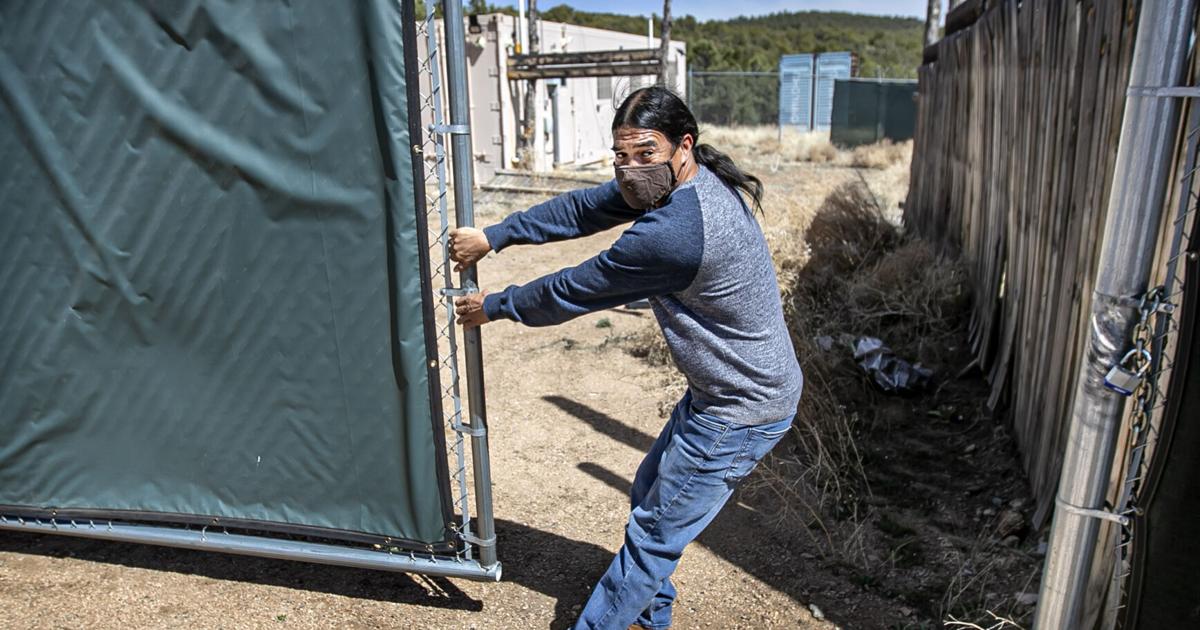 Tribes see green cannabis, but the feds are in the way | Local News
PICURIS PUEBLO – Not much remains of a greenhouse where this small but resilient pueblo in the heart of the Sangre de Cristo Mountains once grew medical marijuana.
Leaning forward with all his weight, Tribal Sheriff John Salazar opened a cumbersome door on Friday to reveal a grow facility left in tatters by time, weather and the Federal Bureau of Indian Affairs agents who raided it in 2017.
"It was a great operation," Salazar recalls as he surveyed a pitch now covered in weeds that no one would want to smoke.
"It is heartbreaking for our people…to know that other [marijuana growing] the operations are happening, and we're here on federal land and we can't do it on federal land," he said.
Although cannabis remains illegal under federal law, Picuris plans to stage a comeback — with support from Governor Michelle Lujan Grisham's administration — after recreational marijuana was legalized in New Mexico.
Last month, Lujan Grisham signed 10-year intergovernmental agreements with the leaders of two pueblos – Picuris and Pojoaque – allowing them to engage in cannabis industry activities.
"The economic opportunities offered by the recreational and medical cannabis industries are truly game-changing, and sovereign tribal nations stand to benefit alongside the state," Lujan Grisham said in a statement at the time.
The intergovernmental agreements will, among other things, prevent federal law enforcement actions on tribal lands, according to the governor's office.
The agreement "allows us to exercise our sovereignty within the state. I think that's the most critical thing," Picuris Pueblo Governor Craig Quanchello said. "We don't know what's going to happen with the feds, but [the agreement is] hold us accountable."
Pojoaque Pueblo plans to take advantage of the pact by opening a dispensary, Governor Jenelle Roybal said last month.
Roybal did not return a message seeking comment late last week, but said in March that, based on what she has seen in other states where similar agreements have been signed, " the feds don't seem to step in" and disrupt tribal cannabis operations.
Quanchello said Picuris is taking a cautious approach, making small investments in another grow operation and renovating an old smokehouse that also houses a small casino into a recreational marijuana dispensary on tribal land. The pueblo is also in the process of opening a dispensary on West Alameda and Sandoval streets near downtown Santa Fe.
Quanchello pointed out that the pueblo uses unrestricted funds, not the federal government, to invest in recreational marijuana.
Conceivably the stakes are much-needed jobs, more income for less wealthy pueblos, and the opportunity for business-minded members to get involved in what is quickly becoming an important source of income for New Mexicans and the government of the state.
The question: What can Indigenous communities do at the intersection of state and federal laws?
"It's not really that complex. It's pretty straightforward," said Santa Fe attorney Richard Hughes, who specializes in tribal law and represents Picuris in the state settlement.
Then, with a hearty laugh, he added, "It's just that nobody knows what the answer to the question is."
History has shown that states cannot protect tribal communities from federal law enforcement action. In addition to the 2017 raid, federal agents in September seized nine cannabis plants that a Pueblo man with a medical cannabis card was growing for his own use. The Associated Press reported that the Bureau of Indian Affairs sent a letter to the pueblo after the incident that said, in part, "The BIA's Bureau of Justice Services is obligated to enforce federal law and does not order not its agents to disregard violations of federal law in Indian Country.
Later, a BIA agent seized cannabis seeds that a pueblo official was transporting just off pueblo land, Hughes said. No charges have been filed.
Hughes said efforts to get BIA representatives to answer questions about it went unanswered. The office did not return a call seeking comment.
Ida D'Antonio-Hangen, a recently retired FBI agent who is now a professor of criminal justice at New Mexico State University, said she had heard of BIA agents seizing cannabis in people holding medical cannabis cards on Mescalero Apache land.
"Federal law still says it's a violation to have certain amounts of marijuana," she said, adding that some tribes were seeking legal advice to "consider how they can grow crops on their land given that New Mexico now allows it."
"They want to get those permissions, but so far they haven't gotten them," she said.
Navajo Nation member Ira Vandever thought he did.
When former President Donald Trump signed into law the 2018 Farm Bill, he approved the cultivation of hemp products across the country. So Vandever, an entrepreneur, expected to grow hemp and pave the way for other Native Americans to follow in this potentially lucrative field.
But when Navajo Nation authorities ordered an end to hemp production on Navajo lands following the Dineh Benally case — in which Benally was accused of using the new law to illegally grow marijuana — Vandever realized he would have to do more than just move. the box to continue its operation.
He had to move out of the Navajo Nation.
He leased plots of land outside of Taos and Grants to maintain his operation.
Now, as he plans to enter the legal recreational cannabis industry in the state, Vandever dreams of creating a collective of native entrepreneurs to produce, manufacture, sell, transport and market marijuana.
"We could create our own blockchains and define what it means to grow hemp and cannabis by Indigenous standards," he said.
Like Vandever, D'Antonio-Hangen thinks some tribal communities may try to circumvent the complexities of the situation by renting or buying land somewhere outside their country to grow and sell cannabis.
"Federal law is always going to trump state, so you'll have to cultivate it outside [your land]", she said. "If you have a Native American who wants to sell it, he will have to take his business off the land."
Ann Rogers, a Santa Fe attorney who has practiced tribal law, said she knows of some tribes looking to develop cannabis businesses on land that falls outside of federal government oversight.
For the moment, she says, indigenous communities are paralyzed by the laws in force and "cannot take advantage of the [cannabis] like other people in the state can."
Still, she said anyone buying cannabis on tribal land could still be picked up and charged by BIA agents when they return to their country or pueblo.
Vandever said the problem is further complicated when tribal leaders, such as at the Navajo Nation, decide to impose their own laws or, as in the case of Santa Clara Pueblo, make it clear that they will abide by federal laws regarding the prohibition of cannabis.
Santa Clara Pueblo sent flyers to its members warning them that the production, sale and consumption of cannabis remain illegal.
Santa Clara Governor Michael Chavarria said his pueblo has no plans to get involved in the cannabis industry. He said there had been "some issues" with some members growing their own cannabis.
"It is still illegal to farm or own on federal land," he said, adding that such actions also violate the pueblo's own code. Violators can face fines and jail time, he said.
He added that pueblo members are "roughly aware" of the ban.
It's too early to tell what other pueblos might have in mind when it comes to cannabis. Representatives from several pueblos did not respond to requests for comment. A San Ildefonso Pueblo spokeswoman said the tribe has no plans to go into the business.
Onnie Martinez, spokesperson for the Nambe Pueblo governor's office, declined to comment.
Vandever said he believes the state's tribes should jointly create a collective and start a new "green evolution" with cannabis and hemp.
"We don't want to be just producers," he said. "We want to package, market, retail, take over all the middleman roles. We want a piece of all that action."
As for pueblos who choose to sign intergovernmental agreements with the state, he said they have to ask — and answer — another tough question.
"How much do they give in innovation to the state and [the Regulation and Licensing Department]when in reality they should control the whole process?" he said.
Quanchello, the governor of Picuris Pueblo, said it was unfair to ban tribes from participating in the new recreational marijuana industry. He said tribes in other states were operating marijuana businesses without federal intervention.
"A lot of things can happen, but maybe this time we will succeed," he said. "The [financial] the help it will give us and the support it will give us… is worth the risk. Without risk, there is no reward."
While the threat of federal law enforcement action remains real, Quanchello said it's only fair that natives can participate in the new industry.
"At the end of the day, we're New Mexicans too," he said. "We have land, we have water, and that is something that can change our future."