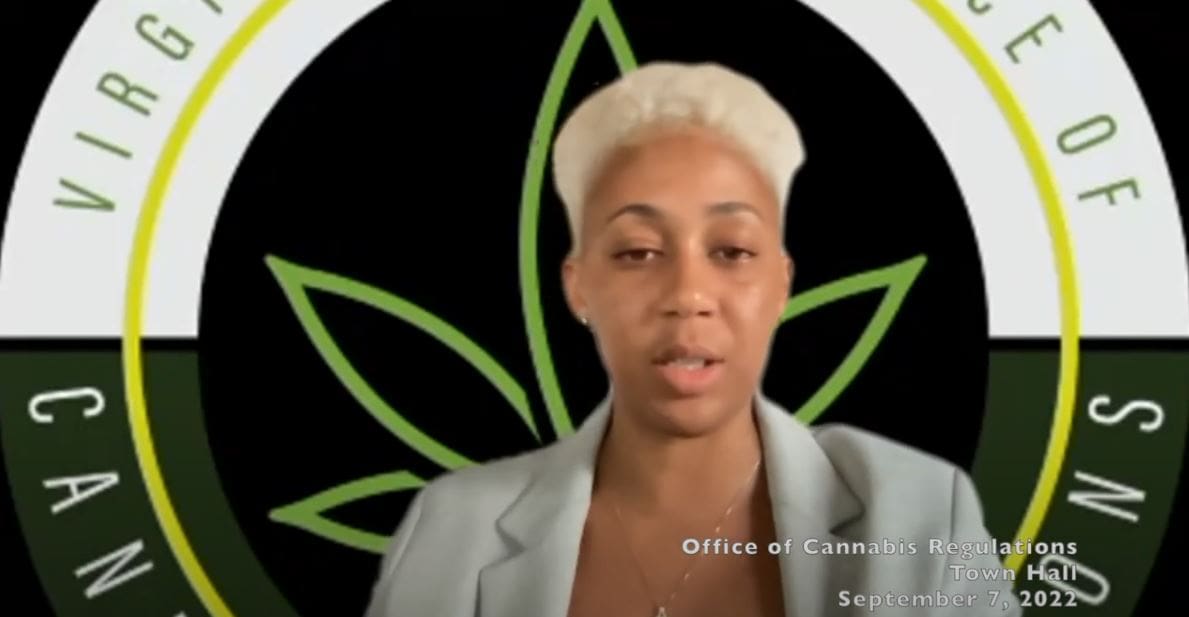 Office of Cannabis Regulation Holds Town Hall to Hear Community Concerns
On Wednesday, the VI Office of Cannabis Regulations held a virtual town hall to hear community concerns about the rules and regulations proposed by the Cannabis Advisory Council. The rules and regulations were originally released on August 12.
The Executive Director of the Office of Cannabis Regulation, Executive Director Hannah Carty, presented a brief overview of the proposed medical cannabis rules and regulations to town hall attendees.
The comment period for the rules and regulations will end on September 12, giving the rules and regulations a 30-day public comment period, and the final rules and regulations are expected to be tentatively released on September 26.
The grower license registration will go live on October 3 and the remaining licenses are to be determined. Application types will include "Patient-side registration", which is for patients, physicians and caregivers, and "Company-side registration", for growers/growers, manufacturers, retailers/dispensaries, research, third party suppliers and laboratories. test.
Carty said the exact number of licenses to be issued each year should be determined by the Cannabis Advisory Council; however, they shall not issue licenses that supersede the amounts authorized by Chapter 34 of 19 VIC.
During the open-ended question section, one of the attendees asked, "How does the Office of Cannabis Regulations rationalize 750 square feet of flowering canopy coverage for all three grow levels when the maximum for tier one is 100 plants, and the maximum for tier three is 1,000 plants," referring to the proposed rules and regulations.
Carty said: "The 750 square foot flower canopy is for one area, you can have multiple areas to grow these plants, and there is a layout that allows you, if you are in a range of 1,000 plants, to be able to submit a request to the Cannabis Office so that we know where we have these great cultures".
Another question asked was about the requirements in order to maintain certain operations, for example, cultivating, extracting, dispensing or keeping separate in a building or location.
Carty said under the proposed rules, activities can take place in the same building but must be separated and demarcated.
Another commenter referred to the number of nominations an entity or individual can apply for.
Carty said: "Nothing prevents someone from applying for more than one type of license. If you are interested in several, you can apply for several".
Some of the initial application fees are as follows:
Application for identification card at the registry: $50
Registry ID Application Renewal: $50
Doctor's certification: to be determined
Non-Resident Registry Identity Card

Five-day pass: $50
Ten-day pass: $75
Thirty-day card: $100

Cultivation license application

Tier 1 – not to exceed 100 plants: $1,000/$500 for existing farmers
Tier 2 – not to exceed 500 plants: $2,500/$2,000 for existing farmers
Tier 3 – not to exceed 1,000 plants: $5,000/$4,500 for existing farmers

Dispensary license application: $5,000
Manufacturer's license application: $5,000
Request for Third-Party Supplier Certification: $1,000
Other fees to note in addition to the application fees:

License to operate Certificate fee
Renewal fees
The regulations were established by Law No. 8167. The Office of Cannabis Regulation was created to authorize and provide for the beneficial use of medical cannabis in a regulated system to relieve symptoms caused by debilitating medical conditions and their medical treatments .
The Office of Cannabis Regulatory operations began on January 3 and has two offices at VI Department of Licensing and Consumer Affairs facilities in St. Thomas and St. Croix.
Vacancies for the Cannabis Advisory Council are still available for a farmer, a pharmacist, an economist or financial expert and a naturopath. Interested parties should submit a cover letter and resume acknowledging the vacancy you are interested in to [email protected].
For more information, you can contact the Office of Cannabis Regulations by calling 340-714-9755 or emailing [email protected].
To view the public meeting of the Office of Cannabis Regulation, you can click on here.
Council members present at City Hall were Catherine Kean, Commissioner Positive TA Nelson, Commissioner Richard Evangelista, Nicole Craigwell-Syms, Chris Jones and Gary Jett, who was not present.