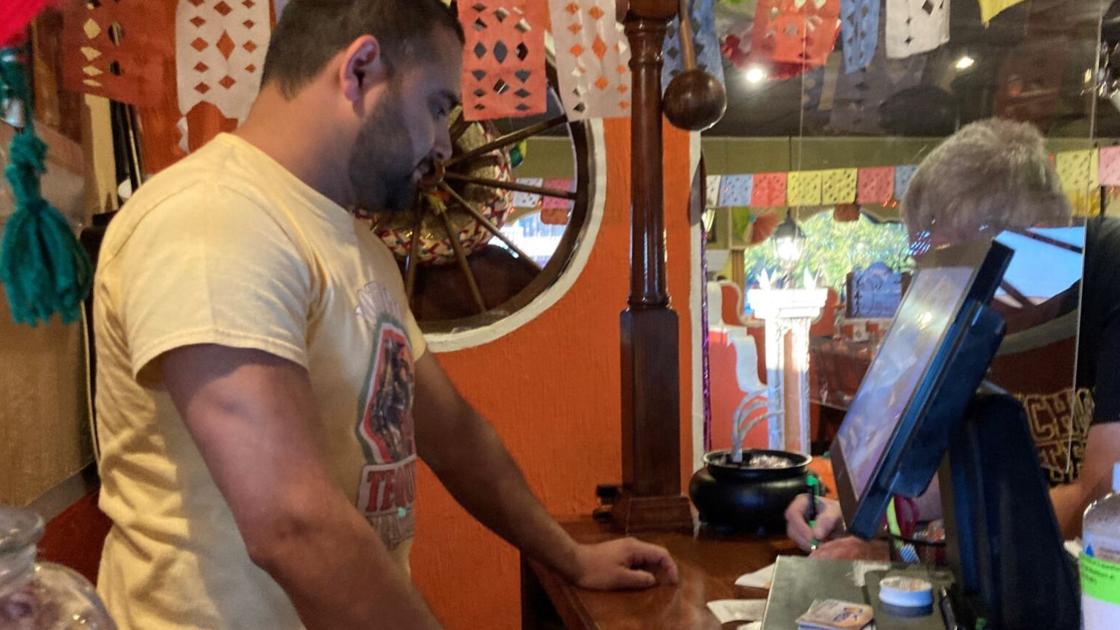 Menominee marijuana stores to move long-standing businesses | New
MENOMINEE — Menominee city council's decision to encourage marijuana companies to seek buyouts of existing business sites means four long-standing businesses could move or close to make way for marijuana stores.
It also adds to the uncertainty over whether the four companies that gained city approval for retail marijuana licenses in September will actually open stores in Menominee over the next six months.
La Cabana restaurant in Menominee could be forced to find a new location if Attitude Wellness / Lume takes the place of a medical marijuana store, as provisionally approved by Menominee City Council.
But as of last week, the restaurant owner had yet to be notified that he had to move. "We might have to go," said Martin Espinosa, owner of La Cabana restaurant in Menominee, which opened in 2010. "We don't have a lease at the moment." Espinosa said the building has been up for sale for two or three years, so he pays rent month by month.
City council, which did not approve Attitude Wellness / Lume's adult recreational use retail application, requires the company to be approved for a special use permit to act on its license. medical use, which could prolong the process.
Espinosa said he would move La Cabana to another location in Menominee if he could keep the liquor license. "If I have an opportunity with a good building, why not? " he said.
Across the street from A&B Auto, The Fire Station Cannabis Co. plans to construct a brand new building and renovate the existing structure on the property at 3101 10th St., said Stosh Wasik, co-general manager. from The Fire Station. "We are meeting the demands of the city and we plan to do whatever the city asks us to do," he said. "We are going to buy the property. It won't be a lease, "he said. A&B Auto declined to comment.
At Stang Sales and Service, 3213 10th St., owner Sue Polito said on Thursday that she sold the property to 1st Properties / Rize for a marijuana retail store. Instead of moving the store, Polito said it was shutting down Stang because the company owed money to a union pension fund. While Polito intended to work another two or three years, the sale to Rize will allow her to retire, she said. "I wanted to end this," she said. "The timing was perfect. Rize directors could not be reached for comment.
At nearby Anderson Auto, Don Anderson and his son Nick, who together own the adjacent lots at 3109 and 3113 10th Street, said they were in limbo. "It's all up in the air," said Don, who owns 50% of the real estate.
Nick Anderson said he was approached earlier this year by several marijuana companies interested in the location, but on Thursday he said he had not heard from them about the real estate. City Council approved cultivation permits for Ottawa Innovations on vacant land west of Anderson Auto, and it approved a medical retail license for Agri-Med on the Anderson property, but none of the Marijuana companies only got the adult retail licenses they wanted.
"There are a lot of unanswered questions and problems, especially for a company like mine where you can't make any progress or move" until the license is resolved, said Nick Anderson, owner of the auto garage business. If Agri-Med buys the real estate he and his father own, Nick said he plans to move the store within Menominee.
Agri-Med submitted two claims, one for adult retail and one for medical retail, and the claims received the same number of points – 47, but did not received a license for medical use.
"We're excited to go ahead and get one of four (retail) licenses," said Greg Maki, who founded Agri-Med in 2017 and was among the first to apply. a Michigan cannabis license.
Maki said he hopes the Judicial and Legislative / Staff and Legislative Committee will reconsider how the Marijuana Selection Committee made its recommendations for retail licenses. "I think there are a lot of other people who are unhappy."
When asked what he thought of the approval process, board member William Plemel, chair of the Judicial and Legislative / Staff and Labor Committee, said: "I'm not too happy. We are still working on it.
The number of city-licensed adult retail stores could increase, Plemel said. A full committee meeting is scheduled, he said, and he would like to see the city increase the number of retail licenses to at least two more.
Council member Dennis Klitzke said, "If everything was presented correctly… I think they would vote to add two more licenses. He thinks the order needs to be changed.
Regarding the selection process, Klitzke said he was irritated with how companies were awarded more points for purchasing an existing building and improving it than for building a new build on a vacant land, as this encouraged candidates to relocate Menominee companies already registered on the tax roll.
"I didn't want to disrupt companies. We don't want to trade jobs for jobs. We want to create jobs, "said Klitzke, who was barred from the city council discussion and the marijuana license vote at the Sept. 20 meeting because of what some council members said was a conflict. interest earned because he owns a commercial building at an approved location for a marijuana store.
Board member Josh Jones also raised a possible conflict, saying his brother was an investor in a marijuana business, but the board voted to allow him to continue participating in the board approval process.
Klitzke said he voted to recuse himself from the marijuana talks because, he said, "I really had no choice. If the rest of the city council voted against me – and the majority voted against me – I wouldn't be able to vote. Klitzke said he was approached months ago by a developer from Ottawa Innovations who had expressed interest in their location at 3120 10th St., but no deal materialized. Instead, Ottawa Innovations / Higher Love applied for a retail license at 1400 8th Ave. and cultivation permits on vacant land behind Anderson Auto on 10th Street. Klitzke said he does not have a contract on his property at 3120 10th St.
The selection committee's decision to recommend Ottawa Innovations' growing permits, but not its retail applications, indicates a problem, Klitzke said. "Without a retail outlet here, why build your grow op here? You would be placing your grow facility close to your retail facilities, "he said.
But Ottawa's innovations could create as many as 80 new jobs and a $ 10 million investment for Menominee, he said.
City council should act quickly to ensure marijuana retailers actually open here, he said.
"This is a unique agreement. Either (the marijuana companies) come here or they don't. They are going to settle elsewhere and that will be all. It's an opportunity to generate income, broaden the tax base and create well-paying jobs, "Klitzke said.
It remains to be seen whether the marijuana companies that received approval from Menominee City Council on September 20 will follow through with their plans over the next six months, but Plemel suggested that the 180-day deadline for companies to build their new installations could be extended. For a new outlet to be completed in 180 days, "that would mean it has to be done during the winter. This does not happen here in winter. Construction ends on November 15. The wording will be changed. The way it is now wouldn't be fair to anyone.
Applicants to marijuana stores had to commit to a location on their applications, and they had to be in a commercial area for retail or an M-1 industrial area for a grow facility, Plemel said. Klitzke said the downtown waterfront shopping area was off-limits.
The city has not explored which businesses might be forced to relocate if the marijuana stores buy the property they are renting, Plemel said.
"You would like to see some of them continue," Plemel said. "We don't force them to sell.
What A&B Auto in Menominee will do if The Fire Station opens a recreational retail store at its location has not been announced.
Plemel said the problem with the selection committee's recommendations was how the companies were rated and the additional requirements for Attitude Wellness and The Fire Station.
Regarding the requirement for Attitude Wellness to receive a special use permit, "There is no language in the ordinance that has anything to do with saying it. I think they made a mistake there, "Plemel said.
Another company said it would build an office building on the site, in addition to retail and cultivation facilities, but the selection committee did not award points for it. "They said it didn't matter. Of course that matters. Kimberly Clark's office building is in Marinette, "Plemel said, and that counts as a business.