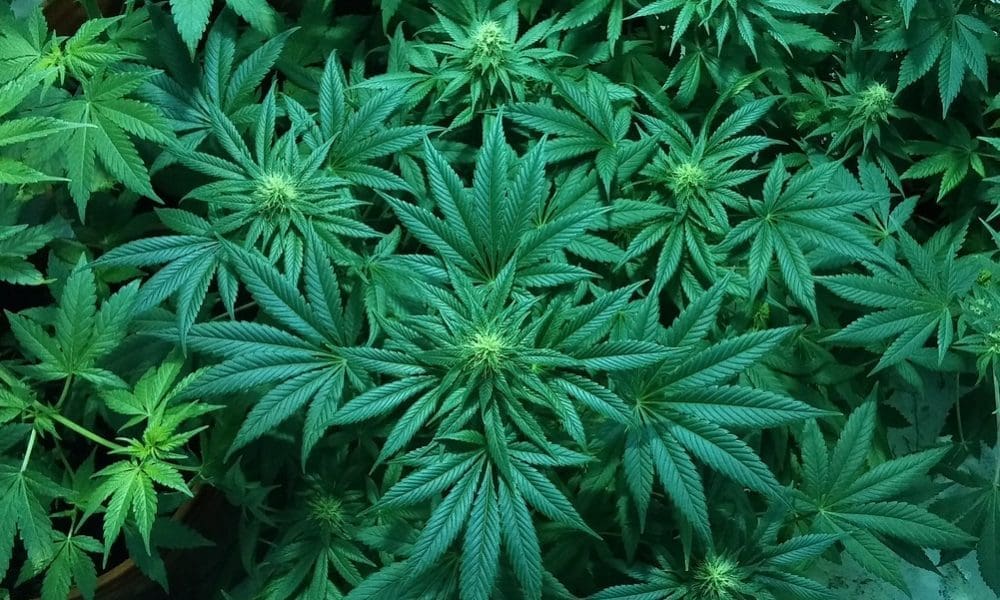 Indiana Lawmakers Hold Hearing on Marijuana Legalization and Delta-8 THC Products
"We know there are so many positives for cannabis. Shame on us for criminalizing responsible Hoosiers who simply want a better quality of life.
By Whitney Downard, Indiana Capital Chronicle
Lawmakers on Tuesday considered the pros and cons of legalizing certain cannabinoids, potentially as a precursor to legalizing the plant itself for recreational use. But the proposed research was often in conflict and the committee abruptly ended, with the discussion due to continue next month.
For four hours, the members of the committee of the interim health committee heard testimony for and against legalization, from veterans using it to treat chronic pain to prosecutors worried about unintended consequences. Although called to study the legalization of the cannabinoid Delta-8, the committee's testimony largely focused on the legalization of marijuana for medical or recreational use, which three of Indiana's neighboring states allow.
In the day's final testimony before the committee, Seymour's rep Jim Lucas said he himself needed a "gummy" after listening to four hours of talk.
Lucas, a Republican, noted that 24 veterans commit suicide every day and veterans have testified to the effectiveness of cannabis.
"We know there are so many positives for cannabis. Shame on us for criminalizing responsible Hoosiers who simply want a better quality of life – they don't want to be directed to where they are [suicidal]…because they can't take it anymore," Lucas said, "begging" lawmakers to take action. "It's up to you to decide if we move forward with a responsible cannabis agenda or if we continue to stay in the dark ages."
Drawing a line between hemp and marijuana
Several representatives of the hemp industry and the cannabis industry urged lawmakers to consider legalizing the substance, which Republicans have largely resisted for years saying they want to wait for federal approval.
Hemp and marijuana differ, largely based on levels of chemical cannabinoids. Hemp is currently legal to produce with restrictions in Indiana but difficult to regulate because the plants for the two substances look and smell similar and can only be told apart in the lab, according to reports.
Although Stash Ventures was founded in Marion and even had its headquarters in Fishers at one point, the company moved to Michigan when it seemed unlikely that Indiana would legalize cannabis anytime soon. coming.
"If Indiana had been available when we started in Michigan, we would have started here with our investment," said Katie Wiley, the company's chief legal officer and chief strategy officer.
Wiley, an attorney for Hoosier for more than 20 years, said Stash Ventures is a vertically integrated cannabis company, meaning it holds licenses for cultivation, processing and retail.
Today, our Interim Public Health Committee heard from various Hoosiers and stakeholders about medical cannabis and decriminalization versions of cannabis. It's high time Indiana joined the other 37 states with some form of legal cannabis. pic.twitter.com/uZFccZnvVW

— Senator Jean D. Breaux (@SenJeanBreaux) September 20, 2022
She pushed lawmakers toward legalization, saying that as a parent, she didn't want her children to encounter potentially dangerous products in an illicit market. Some lawmakers said they've come across reports of marijuana containing fentanyl, a highly addictive and dangerous substance largely responsible for the recent rise in overdose deaths.
"As a Michigan retailer, we can tell you that we have Indiana residents buying from us in Michigan," Wiley said. "I want a regulated market (here)… (If) my child got into something, I would like to know what was in it."
The longer Indiana waited for "inevitable" legalization at the federal level, Wiley said, the more companies would choose to invest elsewhere.
Conflicting research on proposed legalization
Business representatives from the Chamber of Commerce called for a delay, saying Indiana's testing capacity is not ready to reliably screen for impairment.
Mike Ripley, the organization's vice president, said employers struggle to test for drug use when marijuana can show up on tests days after use.
"These kinds of things we don't know yet (how to) and that's why we think the longer we wait to implement things, the more data comes out," Ripley said. "We believe time is on our side."
As a member of the Interim Public Health Committee, we have heard from Hoosiers, business leaders, experts from states where cannabis is legal and others have made it clear, it is time for Indiana to legalize cannabis.
My full statement: https://t.co/OfsPQakCpW pic.twitter.com/sFOHWo7IjL

— State Senator Rodney Pol Jr (@SenRodneyPol) September 20, 2022
But public defenders have observed that testing shortcomings are already complicating prosecutions, noting that Marion County recently suspended marijuana arrests after a lawsuit claiming their systems could not reliably determine the potency of cannabis.
"Even though [cases] are impossible to prove, they are definitely affecting the lives of our clients," said Monroe County Public Defender Noah Williams. "If you're going to charge someone with this offence, you have to be able to prove it."
A cited study from a religious school concluded that Coloradans spend $4.57 mitigating the effects of marijuana for every tax dollar they collect from the legalized substance — a statistic Senator Ed Charbonneau found concerning .
"I find it ironic that there's a ton of money to be made by individuals but also by the state of Indiana and I want to make sure we don't get addicted to the money," Charbonneau said. , R-Valparaiso. . "We've found a way, maybe, to spend some of this large amount of money…on the problems we're creating."
But others presentations provided conflicting information, reported lower health care costs, lower opioid overdose deaths, and more effective law enforcement agencies. Another set of studies determined that cannabis use reduced reliance on prescription drugs for chronic pain and had fewer side effects.
The committee chair, Rep. Brad Barrett, R-Richmond, abruptly ended the Meet, saying he and others would stay to hear additional testimony in private, but ended the official live stream after four hours of testimony. The committee is scheduled to meet again on October 4 at 12 p.m.
This story was first published by Indiana Capital Chronicle.
Two in three Missouri voters 'sure to vote yes' to marijuana legalization ballot initiative, poll finds