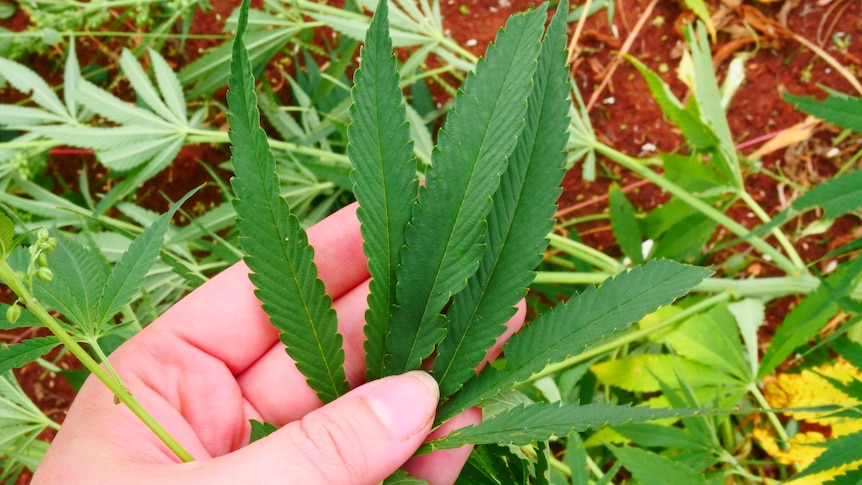 Huge crop of cannabis harvested in Tamworth with a custom machine
Spreading over 180 hectares, one of Eastern Australia's largest industrial cannabis crops has been harvested for the first time and cutting it down has been no small feat.
Key points:
Cannabis plants used for fiber were harvested in Tamworth
It was necessary to invent a machine to manipulate the harvest
Producers say they hope plunging into the large-scale industry will foster other operations in the east
The crop was planted in October less than 10 kilometers from the center of Tamworth, in north-west New South Wales, on council-leased land that only uses sewage for irrigation.
The initiative is normally used to grow alfalfa hay or cotton, but the hemp harvest yielded an estimated bond of 14 tons per hectare.
Qurindi straw and hay farmer David Wallace said he was waiting for such an opportunity.
"We've been packing hemp for other growers for a while at Manuka Farm, but only in small portions," Wallace said.
"It was only when we had the opportunity to lease the reuse farm with the amount of water needed to develop it on an industrial scale that we took it.
"There has been medicinal hemp, recreational hemp, and all of them have been growing in the background for many years.
But we hope it's a stepping stone to making it industrial scale for eastern Australia.
Although the cannabis plant uses the same amount of water as alfalfa and cotton, Mr Wallace said the challenge of growing it on wastewater is to use all of its resources.
"We have to use a fixed amount of water each month, which we have to use all of it, so now we will have crop rotation and resow cannabis in October."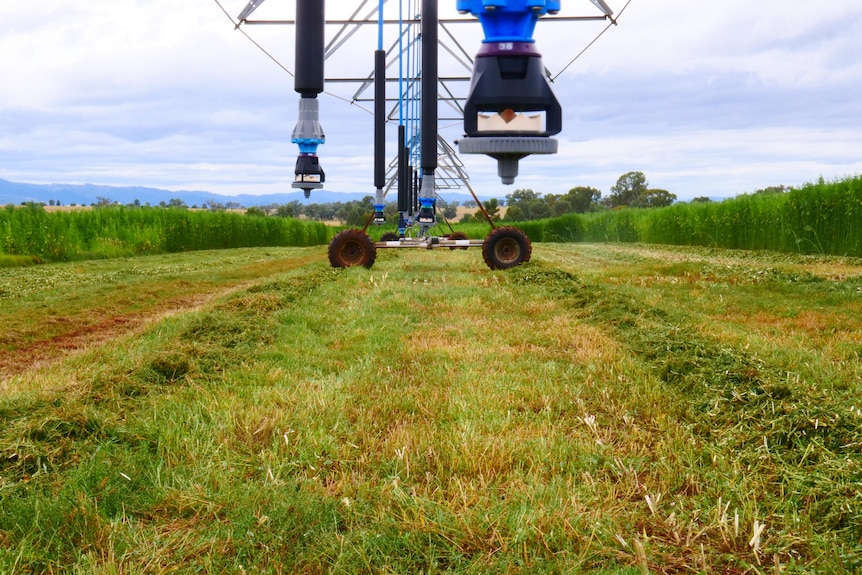 The plant has been pre-sold to textile operations, which will grind its fibers to be used for clothing and building materials.
Mr Wallace said the plant could be used for "anything".
"You have hemp in the concrete, the clothes – even the panels of Mercedes cars have it, because they are flame retardant," he said.
A new leaf for the reapers
The hard, bamboo-like texture of cannabis may have endured Tamworth's humid summer, but ordinary machines couldn't handle it.
Two years ago contract harvester Ian Wise was asked if he could find a way to bring in the crop.
"When I was asked if I could cut it, I thought, 'That's a challenge,'" he said.
"We had to rethink the whole process because it's fiber, so it has a tough central stem and grows over your head."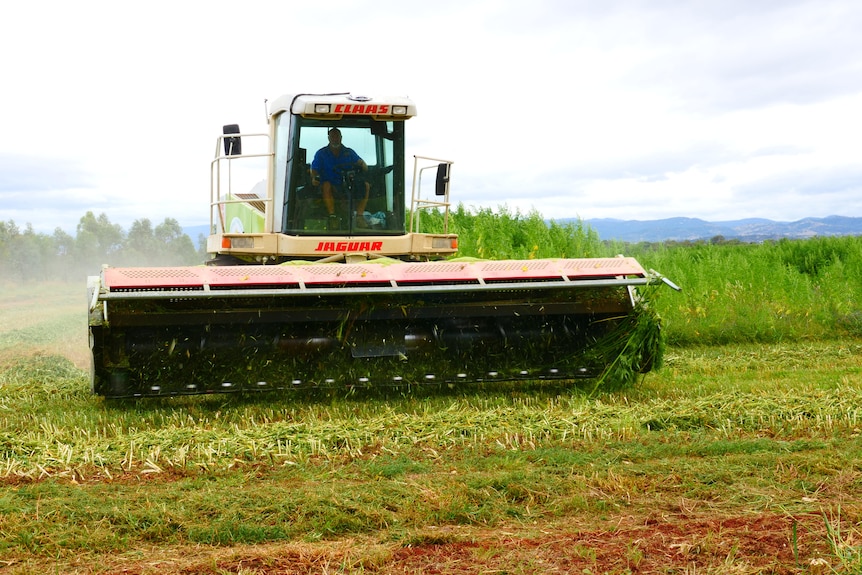 Mr Wise has spent the past few years and half a million dollars designing a new harvesting machine which is the first of its kind in Australia to handle a large-scale plantation.
Before its first use at Tamworth, it was tested harvesting everything from sorghum crops to PVC pipes.
"It's based on a Jaguar-class unit," Mr Wise said.
"But I think the only thing left of the Jaguar is the sticker on the front.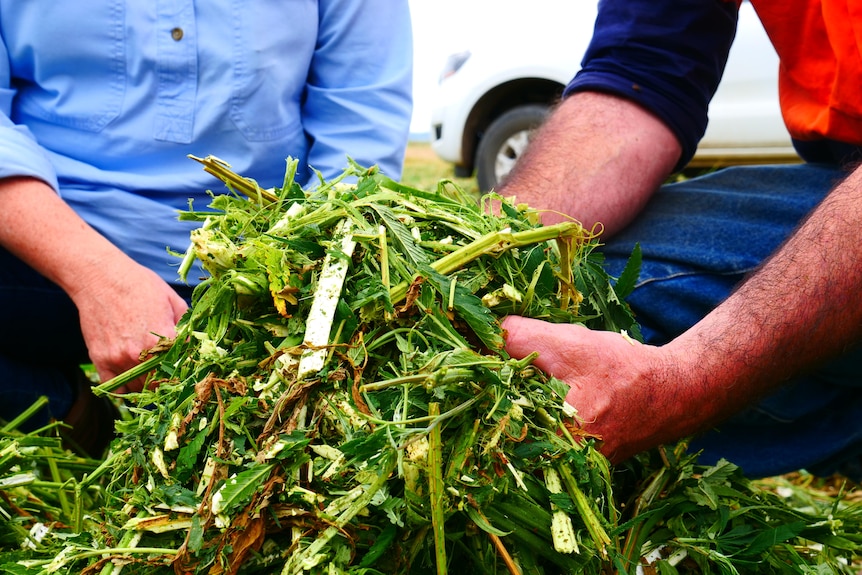 'Take that leap of faith'
Mr Wise hoped investing in the machine would mean more crops could start in eastern Australia.
But he says the stigma and bureaucracy surrounding the cannabis industry remains strong.
"People must forget to think of it as a [drug] plant – if you tried to smoke it, you would get a headache and a fair amount of diarrhea," he said.
"But, if someone doesn't take that leap of faith, then it's never going to take off.
"It's a big risk."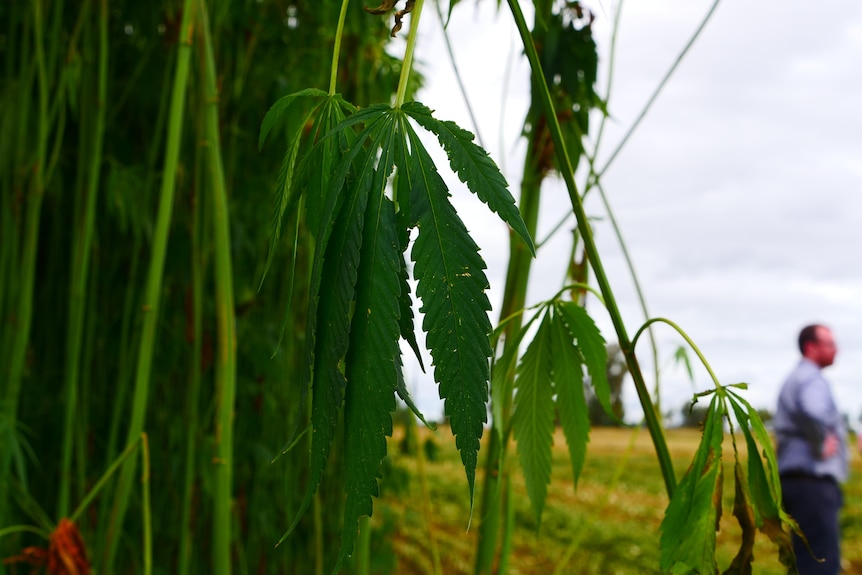 Mr Wallace agreed and said growing Tamworth's crop was a learning experience.
"It is very sensitive to different soil types and even differs on the same pivot," he said.
"As the environmental limits increase for farmers, I think they will turn more to this – like how quickly it grows compared to trees."